Last Update:
27 Mar 2009

MedTees.com Testimonials
---
"Gregory" with his IBD Shirt to support the Crohn's and Colitis Foundation of America
Yorba Linda, CA
"When our daughter was diagnosed with LQTS, her psychological issues were many - she was a nationally ranked swimmer with a college scholarship lined up - she'd been swimming since she was 5 years old. In short, a very bright swimming future. Well, her peds EP nixed the swimming with her diagnosis, and she got her ICD placed. I don't remember exactly how we stumbled on your Medtees website, but we bought the 'battery powered' T-shirt for her as a 'getting out of the hospital present'. As she worked through her grief of not being able to swim, and her acceptance of what this is (along with her love/ hate relationship with her EP doc!), we watched and talked and laughed and worried and prayed together.
Well one day, she came upstairs wearing her new T-shirt and announced that she was done moping. She was doing OK with all this, she was glad she had the ICD as 'insurance', and she was going to show it off. So that pink T-shirt really became a little symbol of her healing process. I suppose just what you intended? So thank you for that. What a unique and wonderful concept. I'm so glad you bridged the gap between idea, and actually making it happen. I'm sure our story isn't unique."
- Allison , Durham, NC
(See Allison's blog)
---
An article by Kelsea Gurski in the State Journal Register, Springfield, IL, 12 June 2006. (pdf file, 1.5 MBytes)
---
See the great article on MedTees by Bruce Miller (pictured on the cover) in the June/July 2006 issue of Siouxland Health (pdf file, 658 Kbytes) from Sioux City, Iowa.
---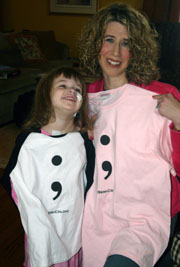 "Gemma and Terri" (Daughter and Mom), Northbrook, IL
Crohn's Disease Advocates with our "Semi-colon" t-shirts.
---
"I wanted to thank you for your efforts and creativity in the t-shirts that you have put out. I had a Long QT incident and was dead for about 7-10 minutes. I was saved by my 8 year old son who dialed 911 and was doing rescue breathing on me when the paramedics arrived. I really like the "Death" t-shirt and the QT shirt. My husband even said that the QT shirt would promote questions by people. Thank you for bringing laughter to such a serious subject."
"Jennifer", Age 36, Colorado
---
As seen in the AMA Medical News 20 Feb 2006 (pdf file, 810 Kbytes)
---
"I am a bi-lateral above knee amputee (I have no legs!). I would like to thank you for providing us with shirts that keep our sometimes sick sense of humor going. Joking around about it is a big part of my rehabilitation. I am a Marine and I lost both my legs in Iraq along with three of my friends who are also bi-lateral and one who is a single above knee. We laugh about it all the time and have fun with it, cause how else can you cope with something like this. "
"Neil," Ishpeming, Michigan, Cpl/USMC, (Injured Dec 7th, 2005 Ar Ramadi , Iraq )
---
"Thanks for making the shirts--it helps me to have some humor about my situation which is much more uplifting than feeling down about it."
See Helen live on WBIR in Knoxville with our shirt to promote February "Go-Red-For-Women"
-"Helen," KY, USA
and as featured in the Chicago Tribune article Jan 8. 2006 (See her full story here)
---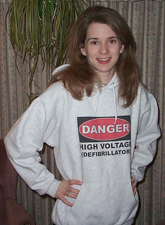 "Kori", Mundelein, IL
Long QT Syndrome, Defibrillator Recipient
Meet others or ask questions about Long QT Syndrome at the Long QT Support Group
---
"My 2nd birthday is coming up on February 2 (2006) and I just happily placed my second order as a birthday treat to me. My real birthday is February 23 and this year I turn 50, but my new birthday on February 2nd means much more to me as a "SCA (Sudden Cardiac Arrest) SURVIVOR"! I love the clothing and especially the designs! It is great to be able to wear my humor and to publicly laugh at what I have been through. After suffering 2 Sudden Cardiac Arrests and being dead for up to 12 minutes the first time, followed by open heart surgery (quad CABG) afterwards, I have already had the worst days I can possibly have. A bad day now is something I just laugh at! Sometimes, the shirts will make people ask me questions, which provides me the opportunity to encourage them to learn about Sudden Cardiac Arrest, get trained in CPR & AED and encourage them to get AEDs in their schools and workplaces. Of course, sometimes my "DEATH" shirts make people a little nervous, but things could be worse, right?!?! I am using your apparel to spread my "gospel" on SCAs, CPR & AEDs. That means your apparel is being used to help save lives! This is a cause that I am dedicated to for the rest of this life plus any more lives I get!
You keep coming up with new ideas for "DEATH", "SURVIVOR", Sudden Cardiac Arrest", "CABG", "VF", etc., and I will keep buying. One thing many of us "SURVIVORS" like to joke about when we get together is how we can't even die right. Or that for MOST people, death is a one way journey."
---
"Just wanted to let you know how much a couple of your creations helped my sister, Diana, who had an ICD implanted Nov. 9th. Diana had extensive abdominal surgery on Oct. 28th and her VT/VF was out of control, requiring her to be shocked a couple of dozen times over two weeks. Di was extremely fearful of the ICD, especially after it shocked her two days after implant. Everyone did their best to reassure her…….but only your t-shirts did the trick. I stumbled upon your site while doing research on ICDs and I immediately ordered "Careful, I'm Wired" and "High Voltage". I took them to her in the hospital's TCC unit where she was undergoing rehab and she laughed and laughed….and promptly put one of them on to show her fellow patients. Then she named the ICD "Sparky" and all the fear was forgotten. Your creations are a textbook example of making lemonade!
And we were delighted to see the Wilmette Life article on you and your little enterprise yesterday. Keep up the wonderful work. It is much appreciated by a rookie ICD-er and her family!"
---
"Loved the philosophy behind your t-shirts. I bought two, one for my oldest daughter Teresa and one for me. Teresa is a cancer survivor. She loves the shirt, but mostly she appreciates the care associated with it. She thinks that my doctor and his wife must be "pretty cool". I think she is right."

---
"There's an old saying that "laughter is the best medicine". When you are seriously ill though, this medicine can be a hard pill to swallow. Most people feel depressed and alone. When I first discovered this site, I was amazed at the possibilities it had to make sick people smile. Wes, here at MedTees.com, seems to have come up with a powerful medicine in the form of humorous items for sale for people with illnesses. They definitely will give people with a serious, or not so serious, illness something to chuckle about, and just maybe a more positive outlook on their lives. Most people will experience a serious medical condition sometime in their lives. Here at MedTees, they offer to help by letting people face it with a little humor. It's a clever way of letting other people know that being ill does not mean you have to feel depressed about your condition. It tells others that you face the future with a positive attitude, not to mention a sense of humor. MedTees gives 10% of any purchase to research to help find a cure for some of these very illnesses. They don't have to, but they care enough to do it. That tells me something about these people. Check them out, even if it's just for the humor. If you make a purchase I guarantee you that you will make someone with an illness smile-and that could be the best medicine of all."
---
"I found this site to be one of the most informative sites that I have looked at. Thanks!"
"Great looking shirt and the delivery was very fast."
- "John C."
Charlotte, NC
---
"That's fantastic customer service...I'm very appreciative of your baby product extensions. I posted your additional baby QT products on the Long QT Yahoo Group."
---
"... I ordered the 'Death' shirt for myself and the 'Bald is Beautiful' (from the cancer section) for my mom who just lost all of her hair due to chemo. Won't we be cute walking down the street together?!"
-"Natasha"
Member, Peripartum Cardiomyopathy Forum, 22 Aug 2005
Diagnosed in Jan., 2002 at age 33, survivor of sudden cardiac death, ICD, currently taking coreg, lisinopril and asprin. EF 10% in 1/2002. EF currently 60%. 2 boys ages 7 and 10.
---
"Thanks for putting the IBD (Inflammatory Bowel Disease) Tee Shirts out there. My son, who is 13, was diagnosed with UC last year. You folks are great. I never dealt with any kind of business or organization that reacts so quickly. I know the guy who suggested the Tee Shirts that's how I found out about you. I was quit surprised to see them on your site so quickly."
- "Elysse"
Marietta, GA, USA
---
Shop Oregon Blog
Wednesday, June 22, 2005
"Got Giving?"
As I walked by the 20-something I had to do a second take. I'd seen "Got Milk", "Got Frogs" has been done, but "Got Morphine?" Huh?!?
I asked the girl wearing the shirt what the story was and she told me it was from MedTees.com a nonprofit, online store that donates part of its proceeds to various charities. The "Got Morphine" shirt's revenues go to the American Cancer Society and are meant to make irreverent cancer patients smile. Like their websites says – it's just a little different from the usual flowers!
If it did nothing else, the T-shirt made me think about products that have a heart. The Breast Cancer Site has really cute t-shirts, camisoles, slippers, et cetera available to purchase. Not only will you look good, you'll get the message out! And money will be donated to provide fee mammograms to low-income, homeless and inner-city women. The American Red Cross also has stylish t-shirts for sale.
---